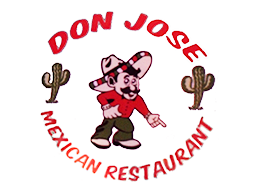 If you are planning to pay for you order at the store, you MUST pay with cash. If you wish to use credit card, please pay online. Note that store coupons may not be available online.
Don Jose Mexican Restaurant
Bienvenidos! If you are in the Netcong, NJ area, Don Jose Mexican Restaurant is the go to place for your favorite Mexican cuisine! Our menu includes the best of Mexico in an easy to order platform! We have daily lunch and dinner combinations plus Vegetarian options and a Children's menu. We are located on Ledgewood Ave just north of Christopher Colombus Hwy. We are just south of Lake Musconetcong and are a 10 minute drive from Allamuchy Mountain State Park. Order online now!
99%
of 262 customers recommended

Hours of Business

Sunday

12:00 PM - 10:00 PM

Su 12:00-22:00

Monday - Thursday

11:00 AM - 10:00 PM

Mo,Tu,We,Th 11:00-22:00

Friday

11:00 AM - 11:00 PM

Fr 11:00-23:00

Saturday

12:00 PM - 11:00 PM

Sa 12:00-23:00

Carryout Hours

Sunday

12:00 PM - 9:00 PM

Monday - Thursday

11:20 AM - 9:00 PM

Friday

11:20 AM - 10:00 PM

Saturday

12:00 PM - 10:00 PM

Pub Food,New Mexican,Seafood,Steak,Chicken,Vegetarian,Dessert,Salads,Grill,Mexican